Animatus and the High Falls Film Fest 2006
Here's a run-down of High Falls Film Festival events that Animatus is taking part in this year. Enjoy!
***
INDEPENDENT ANIMATOR EMILY HUBLEY IN PERSON
Animatus Studio and the High Falls Film Festival are pleased to welcome Emily Hubley to the 2006 program.

Join us for a special screening:

PIGEON (AND MORE) WITHIN
The Animated Mind of Emily Hubley

Little Theatre 1
240 East Avenue, Rochester
11:15 AM
Sunday, November 12, 2006

Working in a simple hand-drawn style, EMILY HUBLEY has been making short animated films for almost 30 years. Her work explores personal memory and the unexpected turbulence of emotional life.

She is currently working on a feature, THE TOE TACTIC, now in preproduction with Orchard Pictures. Her newest short, OCTAVE, premiered in a program of recent work earlier this year at The Museum of Modern Art in NYC.
She is a 2004 Annenberg Film Fellow named by the Sundance Institute, and attended their 2002 Screenwriters' and 2003 Filmmakers' Labs.

Hubley created artwork and animation for John Cameron Mitchell's HEDWIG AND THE ANGRY INCH. She worked in collaboration with Jeremiah Dickey on inserts for the documentaries BUBBLE BOY, directed for American Experience by Barak Goodman, ORIGINAL CHILD BOMB, by Carey Schonegeval, and BLUE VINYL, by Judith Helfand and Daniel Gold.

For a summary of shorts we will be screening, visit http://animatusstudio.com/highfalls/hfmain2006.html

***

LIVIN' LIFE: TEENS' VOICES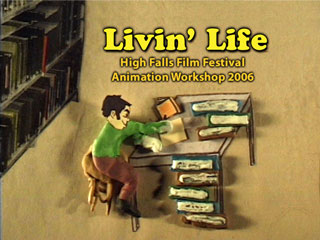 For this year's HFFF animation workshop, fifteen students from various schools and community organizations in the greater Rochester area collectively produced a remarkable short reflecting critical aspects of teens' lives.

These filmmakers came together through "Raising 100,000 Voices," a media literacy community education project run by WXXI Public Broadcasting, the University of Rochester Medical Center and The Roadwork for Success in Young Adulthood.

We're proud to say that the film turned out great, and will be screening twice during the festival.

Saturday, November 11 at 5 pm (Little Theatre 4), it will precede the documentary FREESTYLE: THE ART OF RHYME.

Also, "Livin' Life" will play at the Saturday Gala Night Screening at the Dryden Theatre.

***

PARALLEL WORLDS

This Rochester film will be playing as part of SHORTS PROGRAM #1, Wednesday November 8, 9:15 PM at the Little Theatre.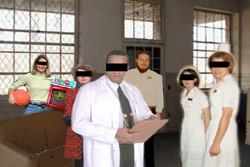 PARALLEL WORLDS
US, 2004, 6 minutes
Animator/Writer/Composer/Editor: Dave Puls
Assistant Writer/Editor: Luann Lindstrom

The abuse of the Iraqi prisoners by American soldiers moved the filmmaker to reexamine his own memories of working at a New York State Mental Hospital in the early 1970's.

Luann Lindstrom lives in Rochester, NY and assists Puls with many of his projects at Animatus Studios.

For more about Fresh Toones, visit http://animatusstudio.com/freshtoones

***

ANIMATUS SPONSORED FEATURE: RENAISSANCE




Renaissance, the new animated sci-fi feature from France, will be playing Friday night at 11PM at the Little Theatre.

Imagine METROPOLIS and BLADERUNNER, then step further into the imagination where science fiction and digital animation meet to create an extraordinary world, giving film noir a new look and new life. It is the year 2054, and Paris is a city-state where big brother watches from above and all movement is monitored and recorded. The once ancient and beautiful skyline is overlaid with high tech skyscrapers. Avalon – the multinational cosmetic company – casts a long and dark shadow over the city. When a human genome scientist whose research may change the evolution of mankind forever is kidnapped, detective Karas is called in to help. In an underworld of dark secrets, corporate espionage, organized crime and genetic research, Karas finds a trail of dead witnesses and more. Christian Volckman stunning imagery combines high-tech animation, the look of black and white cinema with his own chiaroscuro painting style to bring the illusion of still-frame comics vividly to life. The narrative woven with futuristic imagery is completely absorbing and speaks of unlimited potential. (Kathy Kristich)

Director: Christian Volckman
Producers: Alexis Vonarb, Roch Lenner, Aton Soumache
Voiceovers: Ian Holm, Jonathan Pryce, Daniel Craig, Catherine McCormack
Casting Director: Celestia Fox

· 2006 Annecy International Film Festival: Feature Film Award

Celestia Fox began her casting career in 1978 with THE HOUND OF BASKERVILLE. She has taken on wide ranging projects from the edg: PINK FLOYD THE WALL, THE NAME OF THE ROSE, LOCK STOCK AND TWO SMOKING BARRELS to the extremely elegant REMAINS OF THE DAY, UP AT THE VILLA, THE GOLDEN BOWL. She currently resides in London.

http://www.highfallsfilmfestival.com/2006/films.html