Animatus News June 2006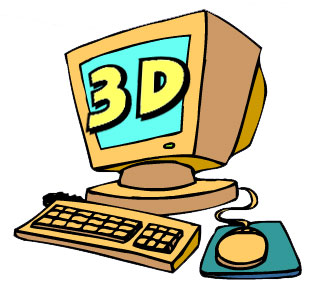 NEW 3D ANIMATION WORKSHOP!
We at the Animation Workshop are pleased to offer a new 4 week course in the basics of 3D animation. The class size is limited to 8 students, so sign up today to ensure your spot!
SATURDAYS
JULY 8, 15, 22, 29
9AM - 12 Noon
Cost: $189
Course Description:
Learn the basics of 3D animation! The course will include many guided tutorials and plenty of hands-on creative time. Students will explore the very basics in this beginner level course using the Lightwave 3D Discovery Edition animation program. Lightwave 3D is one of the more commonly used 3D animation packages used in television and the movies today.
Instructor Biography:
Paul Tracy graduated from RIT with a degree in Film & Animation. He has been working with Lightwave 3D since its beginnings in 1988, then known as VideoScape 3D. Paul has also been teaching adjunct classes at Monroe Community College in Computer Generated Imagery and Digital Photography. He owns his own 3D animation business in Rochester, NY and has worked with Animatus Studio on numerous projects.
Sign up online at
http://animatusstudio.com/workshops
***
REMINDER: SIGN UP FOR THE AUGUST WORKSHOPS
Fish for New Ideas! Hike The Hills of Animation! Challenge the Wild Waters of Creativity! Join us for the Summer Animation Camp!
WHEN: Choose either Wednesdays or Thursdays in August, lasting from 9:30 AM to 3:00 PM each day. See our Schedule for exact dates.
PRICE: $88.00 per week. Sign up for all four weeks and get a 20% discount, for a total of $284.
We try to accomodate vacation schedules by pricing each week individually. These classes go all day, with a break for lunch.
NOTE: All supplies and equipment usage included. Students attending all four weeks receive a VHS copy of their animation. Additional tapes or DVDs are available for $10. Summer students should be sure to pack a lunch.
Sign up online at
http://animatusstudio.com/workshops
***
WORKSHOP STUDENT WINS FILM FESTIVAL PRIZE
Congratulations to Animation Workshop student Adam Markajani, whose cartoon short won "Most Creative" at the Genesee Valley NYCLU PSA Film Festival. "Flappy Rabbit Learns About the First Amendment" played on the big screen at the Little Theatre along with other student entries in the fest.
Many kind (and well-deserved) words were spoken about Adam's film by the judges and organizers of the event. Adam is one of our studio production students, who used his class time to work on this project with instructor Dave Puls.
***
"HATE PREACHERS" TO PLAY BOSTON INT'L FILM FEST
Congratulations to Dave Puls, whose Fresh Toone "Hate Preachers" will show at the largest film festival in Massachusetts and one of the largest in the United States: The Boston International Film Festival.
It will be shown on Saturday, June 10th, right before Henry Selick's
short animation "Moongirl."
For more info on the festival, visit
http://bifilmfestival.com/biffschedule.html
For more about "Hate Preachers" visit
http://animatusstudio.com/freshtoones/cartoons.html
***
"WHEN GEORGIE GOES MARCHING HOME" COMPLETED
The latest addition to Fresh Toones has just been completed, and creator Dave Puls is busy sending it out to festivals.
...This animated short takes us on a surreal tour of the Bush administration and its many misadventures. Like a ride through a fun house, we are taken into the bizarro world of GW. A surprise ending makes this sometimes uneasy jaunt worth the ride....
For updates on the film, bookmark
http://animatusstudio.com/freshtoones/cartoons.html