Pole-A-Palooza & Workshop News
What are you doing with your Wednesday nights? You're not staying in, are you? What a homebody!
Why watch "So You Think You Can Dance" when you can dance to live music in the streets of Rochester? Get off your couch and come out to Pole-A-Palooza!
It's a weekly celebration at the Liberty Pole in downtown Rochester. This coming Wednesday, July 5th, there will even be Animatus and Eggwork shorts playing at the event. (Ah, now we're talking -- Honey, get my keys!)
POLE-A-PALOOZA
A European Street Party!
The Liberty Pole Plaza (E. Main St. & Franklin St. )
Wednesday, July 5
5:30 pm - 8 pm -- Short films, including:
* When Georgie Goes Marchin' Home
* The Scent of Valhalla
* Motherless Child - Remnants of the Subway
* Keep on Walkin'
* Animungus
Read film synopses at
http://thelibertypole.com/art.html
5:15 pm -- Music kicks off with:
* Loulou of Thievery Corporation
* Babaloo
More about the music at
http://thelibertypole.com
Pole-A-Palooza will highlight an event-filled summer as the city promotes Rochester with its "Rockin' the City" initiative. The free events will take place Wednesday evenings from 5 p.m. to 11 p.m., through July 26.
In addition to the music, Pole-A-Palooza will showcase artwork by local artisans as well as short films from America's cutting-edge short filmmakers. Visitors can even visit a psychic, have taro card readings and get a spirit drawing to be entertained as they stroll down Franklin Street and Liberty Pole Way.
A variety of food to accompany beer and wine will also be available.
=========================
ANIMATUS PREMIERES TWO NEW CARTOONS
The upcoming Pole-A-Palooza event will mark the first public screenings of two new cartoons produced at Animatus Studio in Rochester. That's right, we don't mess around -- we've got shorts galore in store for you!
Keep on Walkin
3:35 • Music Video for SpiritEast • Animation produced by Animatus Studio
This upbeat song was composed by Phil Geiger and Steve Billow, and recorded by SpiritEast of Rochester. The music video takes our main character on a colorful stroll through a wonder filled world. He imagines a world where he can walk along with people of all races and religions in harmony.
When Georgie Goes Marchin' Home

3:30 • Dave Puls • A Fresh Toone produced at Animatus Studio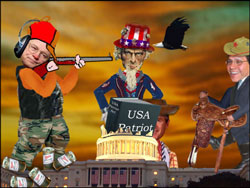 This animated short takes us on a surreal tour of the Bush administration and its many misadventures. Like a ride through a fun house, we are taken into the bizarro world of GW. A surprise ending makes this sometimes uneasy jaunt worth the ride.
Other Animatus productions screening will be the Derf the Viking short, "The Scent of Valhalla," and "Motherless Child - The Remnants of the Subway," a feauturette produced for The End of the Line DVD. Also playing are "Animungus" shorts from Eric Merola and Matthew Ehlers of Eggwork Productions.
=========================
LAST CHANCE FOR 3D ANIMATION WORKSHOP!
We at the Animation Workshop are pleased to offer a new 4 week course in the basics of 3D animation. The class size is limited to 8 students, so sign up today to ensure your spot!
SATURDAYS
JULY 8, 15, 22, 29
9AM - 12 Noon
Cost: $189
Course Description:
Learn the basics of 3D animation. The course will include many guided tutorials and plenty of hands-on creative time. Students will explore the very basics in this beginner level course using the Lightwave 3D Discovery Edition animation program. Lightwave 3D is one of the more commonly used 3D animation packages used in television and the movies today.
Instructor Biography:
Paul Tracy graduated from RIT with a degree in Film & Animation. He has been working with Lightwave 3D since its beginnings in 1988, then known as VideoScape 3D. Paul has also been teaching adjunct classes at Monroe Community College in Computer Generated Imagery and Digital Photography. He owns his own 3D animation business in Rochester, NY and has worked with Animatus Studio on numerous projects.
Sign up online at
http://animatusstudio.com/workshops
=========================
REMINDER: SIGN UP FOR THE AUGUST WORKSHOPS
Fish for New Ideas! Hike The Hills of Animation! Challenge the Wild Waters of Creativity! Join us for the Summer Animation Camp!
WHEN: Choose either Wednesdays or Thursdays in August, lasting from 9:30 AM to 3:00 PM each day. See our Schedule for exact dates.
PRICE: $88.00 per week. Sign up for all four weeks and get a 20% discount, for a total of $284.
We try to accomodate vacation schedules by pricing each week individually. These classes go all day, with a break for lunch.
NOTE: All supplies and equipment usage included. Students attending all four weeks receive a VHS copy of their animation. Additional tapes or DVDs are available for $10. Summer students should be sure to pack a lunch.
Sign up online at
http://animatusstudio.com/workshops