Screenings Galore!
Independent projects from Animatus animators are getting plenty of attention lately. Here's the latest news:
FRESH TOONES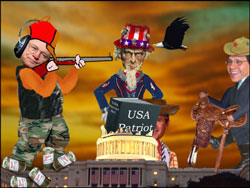 Dave Puls' presidential sing-a-long "When GeorgieGoes Marching Home" will get screentime in our nation's capital when it plays the
DC INDEPENDENT FILM FESTIVAL
, running March 1-11.
"Sal Monella's Deli" is on the comeback trail! This audience favorite about a questionable diet plan will screen at the
FAUX FILM FESTIVAL
in Portland, Oregon, which runs March 29 - April 1.
Coincidentally, the Faux Film Festival takes place in the same venue where Mike Boas' "The Other Gods" played as part of the H.P. Lovecraft Film Festival in October of 2006.
H.P. LOVECRAFT'S THE OTHER GODS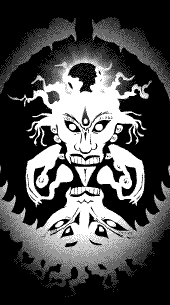 This silent horror short from Mike Boas, based on the pulp fiction story of the same name, played earlier this month in Houston, Texas, as part of the
HORROR DANCE
event.
And just this week, "The Other Gods" screened in Park City, Utah! No, not with the overrated Sundance, but as part of the truly independent
TROMADANCE
film festival.
Finally, for you Rochester residents, "The Other Gods" will be screening at the Little Theatre's
EMERGING FILMMAKERS
series. Come out and join us Monday, February 26 at 9 PM. The Little Theatre is at 240 East Ave, Rochester, NY.
RELATED LINKS:
http://animatusstudio.com/freshtoones
http://www.dciff.org
http://fauxfilmfestival.com
http://maddogmovies.com/theothergods
http://horrordance.org
http://2007.tromadance.com
http://www.little-theatre.com/emergingFilmmakers.php