"It Came From Animatus" DVD Collection
Here's a sneak peak at our cover pic. More info coming soon!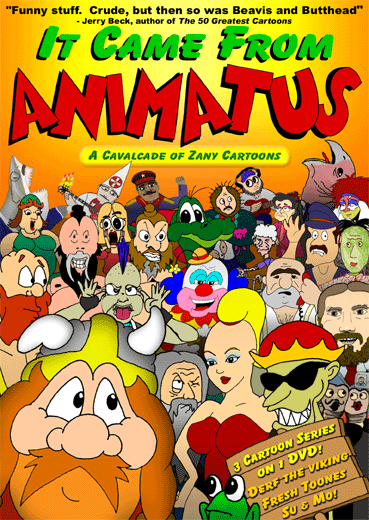 =====================

Aug 30, 2004
Our DVD website is now online!
Check it out at http://www.animatusstudio.com/dvd

Ogle these specs, why don't you?

Derf the Viking
* The Scent of Valhalla
* The Quest for Happy Hour
* The Search for the Great White Ale

Fresh Toones
* Fresh Toones Theme
* Sal Monella's Deli
* Things
* Self-Employed
* Ridin' This Train
* True Believer
* Sharks in the Water

Su & Mo! The Lap-Dancing Bad Boys of Animation
* A Night at Club Hippendale's (Episodes 1 and 2 combined)
* Lost in Animation (Episode 3)

EXTRAS
* Filmmakers' Commentary on "The Search for the Great White Ale"
* Alternate Scenes
* Pencil Tests
* Storyboard Comparison
* "Derf in 3D" Featurette
* "Derf's Principles to Live By" Featurette
* Collectible Booklet with Character Info and Song Lyrics

We're now accepting orders, too! What are you waiting for? For the low low price of $19.95, you can get all the Zany cartoons listed above, and not gain a pound! That's right, our cartoons are LOW CARB! How cool is that?

Buy your copy at http://animatusstudio.com/store/video.html

======================

Sep 13, 2004


TRAILER NOW ONLINE!

Also, for a limited time, visitors to our website (and our studio in Rochester) can buy their copy at the EARLY BIRD SPECIAL price of $15.95. That's 20% off the regular price. Don't miss your chance to save!

Buy your copy through the Animatus Store.